"We are at work too" TPM 5 in Turkey
The 5th and final Erasmus+ transnational meeting for the project 'We Are At Work Too' (Biz De İştiyiz) took place on Monday 27th June 2022 in Konya.
Our Turkish coordinator hosted us and our European partners from Romania, Poland, Portugal & Slovenia for the final time to conclude the project.

The project
'We Are At Work Too' is dedicated to children with intellectual disabilities, their families, and educators.
This project studied the relationship between families, students, educators, and employers. The aims are to offer digital and innovative tools to guarantee children with intellectual disabilities greater autonomy and personal success.

The meeting
The two day meeting kicked-off with a huge multiplier event featuring this and two other projects, coordinated by The Konya Eğitim Müdürlüğü. 
After lunch, the partners discussed the results and stats from the various activities, resources, training and dissemination throughout the project.
One the second day, we had the chance to visit the stunning city of Antalya. The cultural visit was also a chance to spend more time with our partners to strengthen our future working collaboration. 
Overall the project was a great success and reached a huge number of teachers and families of students with disabilities!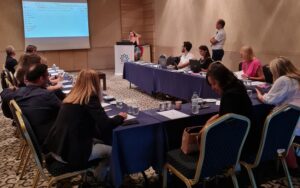 The free digital resources
We have created very practical resources for parents, teachers and educators of students with disabilities! These include a "Family Education Programme", "Supportive Modules for VET courses" and an "Guide for Teachers and Trainers".
Although the project is coming to an end, we will continue to use the useful resources created throughout these two years of partnership, which are always available for free on the project website and e-learning platform. You can also register for free, take the courses and download a certificate of attendance upon competition!
Engage with us on the project FB page for more information!